Awards and Recognitions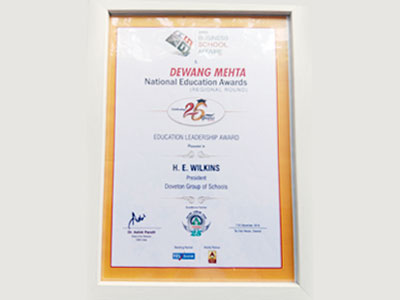 Education Leadership Award - presented to our President-
Mr.H.E Wilkins on 11th December 2018.
We are Extremely proud to announce that The Doveton Group is the only School in the whole of India which received this Recognition.
CONGRATULATIONS ON ANOTHER MILESTONE AWARD SIR !
This Award is most miniscule to your actual Achievements in the field of education ,this further makes the Doveton Management and The Anglo Indian Community extremely proud of you.
The best is yet to come
May God Bless You to continue building the Nation .
OUR PRESIDENT Mr. H.E WILKINS RECEIVING C.S.R AWARD FROM HIS EXCELLENCY SHRI.SURJIT SINGH BARNALA - GOVERNOR OF TAMILNADU . 6TH OCTOBER 2005.
"DOVETON IS PROUD OF YOU SIR"
President Mr.H.E. WILKINS receiving the 'Lifetime Achievement Award for Excellence in the Field of Education' from His Excellency Shri. Banwarilal Purohit- Governor of Tamilnadu on 15th October 2018.